Besides being 'pawsome,' pets can fix your physical, mental health
Besides being 'pawsome,' pets can fix your physical, mental health
Feb 03, 2023, 05:14 pm
3 min read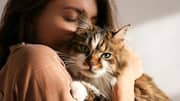 Being a pet parent may come with a set of responsibilities but the journey is no less than therapeutic. While they fill up your space (and life) with their cuteness, there are plentiful benefits that can help you fix your physical and mental health. On that adorable note, check out the five benefits of having pets at home.
Adoption improves both your and the pet's lives. For every dog or cat that you adopt from a shelter house, another one fills its place. With this, you discourage pet mills across the world where unethical breeding takes place. So instead of shopping, adopt.
Pets help prevent loneliness
Whether you stay alone at home or have shifted to a new destination, loneliness can manifest itself in a variety of ways. As a result, it can hamper your mental health. However, having a pet at home can change the narrative. They demand attention, cuddles, tummy rubs, playtime, snacks, and so much more to keep you engaged with them.
They reduce stress and tension
Imagine returning from work stressed about your professional commitments, and as you open the door, a tiny ball of fur jumps right on you! Won't that bust your stress? Pets are expressive beings and can notice in a jiffy when you are sad or upset. Their senses and intuition make them great support and therapy for us during such hard times.
Can push you toward fitness
When it comes to physical health, every 'step' counts. Having pets at home also involves taking care of their health by taking them out for regular walks and playing around with them. This, automatically, improves your health as you engage in these activities with them. Besides that, studies have shown that pet parents have a lower resting blood pressure than people without pets.
They boost your feel-good hormones
With their mere presence, pets have the ability to kick-start your feel-good hormones. And this has been backed by science. A study published back in October 2017 in Frontiers in Psychology, found that petting dogs was linked with higher levels of oxytocin, a happy hormone, and lower levels of cortisol, the stress hormone. This makes pets instant mood boosters and a source of warmth.
They can help you socialize better
Pets can easily be the center of attention in no time when you take them out for a walk, bringing opportunities for you to socialize. Additionally, there are many pet fares and parties that keep happening, which help you connect with like-minded pet parents with who you can build a network. These connections can further help you in your life in multiple ways.