5 important lessons failure teaches us
5 important lessons failure teaches us
Jan 09, 2023, 08:38 pm
3 min read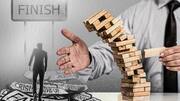 Everyone has failed at some point in their lives. But it's less about going wrong and more about learning from your failures. The first learning that comes with failure is accepting that it is inevitable. If you've recently failed at something in a major way, and you're going through a difficult time right now, keep the following important lessons in mind.
Failure can teach you how to bounce back
Failure is a great teacher of resilience. It helps you discover your hidden talent of getting back up, again. Recognizing when you are failing and picking yourself up from there is a key skill required for succeeding in this competitive world. Unless we are challenged we do not recognize our true potential. Chances are that you may be stronger than you realize.
Failure can teach you to persist in hard times
Failure is inevitable, but it does not mean that repeated failures will pave the road toward success on their own. It requires perseverance in the face of repeated failures to finally succeed. And failure polishes your skill of being perseverant. Failure is possible again, but it is only perseverance that will make you sail through the next rise, fall, and repeat cycle.
Failure does not actually exist
"I've not failed. I've just found 10,000 ways that won't work" - This quote from Thomas A. Edison sums up this point very well. What you may perceive as failure is likely another lesson learned. It will be considered a true failure, only if you fail to take ownership of your mistakes and learn nothing from them. Otherwise, failure just means changing direction.
Failure teaches you to take risks with a smile
Only if you fail, you will realize what strengths you are made of. It takes immense mettle and grit to pick yourself up. Little children, when learning to walk, fall to the ground hundreds of times, but they never stop standing up. When you tap into that same child-like comfort with failure, you learn to take risks with a smile on your face.
Failure makes you emotionally intelligent
When we fail, we feel a range of emotions. From feeling guilty for letting people down, shame for failing, disappointment, and anxiety to feeling relieved that you don't have to complete such a big task anymore. Due to this, failures can bring a greater sense of emotional awareness. It might also help you develop a sense of self-love.