5 drool-worthy recipes using blueberries that you must try
5 drool-worthy recipes using blueberries that you must try
Jan 02, 2023, 12:02 pm
2 min read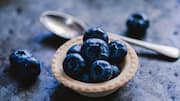 Packed with a tarty, sweet, and sour flavor, blueberries are small nutritious berries that are often used in desserts and smoothies. This superfood not only helps in boosting your immunity but also protects your heart health and prevents the body from harmful diseases like cancer. In fact, they also have the highest antioxidant capacity! Here are five delicious recipes using blueberries you must try.
Whisk together soya flour, baking powder, soya milk, sugar substitute, and egg yolk. Keep aside for 15 minutes. Whip the egg white until fluffy and add to the batter. Mix well. To prepare the maple syrup, heat together water, maple extract, and sugar substitute. Spoon the batter into an olive oil-greased pan, sprinkle canned blueberries, and cook well. Serve hot with maple syrup.
Mix together oats, flour, and salt. Add agave nectar and canola oil, and combine well. Add water and mix again. Press the dough into a pie pan. Bake the dough in a preheated oven for 20-25 minutes. Simmer together frozen blueberries, cinnamon, and lemon juice in a butter-greased pan. Add ricotta cheese and mix well. Pour the mixture on the pie crust and serve.
Blueberry coconut popsicles
This vegan dessert is healthy and nutritious. Add blueberries, maple syrup, and water in a saucepan, and mix well to form a gentle syrup. Let it cool. Whisk together coconut milk, almond milk, and maple syrup in another bowl. Fill half the popsicle molds with the blueberry mix and half with the coconut milk mix. Freeze the popsicles overnight until solid. Serve chilled.
Boil together blueberry puree, lemon juice, and sugar while stirring occasionally. Mix together graham cracker crumbs, sugar, and melted butter. Press into the bottom of a springform pan. Beat together cream cheese, sugar, vanilla, sour cream, eggs, blueberry puree mix, flour, and salt, and pour the mixture over the crust. Bake for 90 minutes and then refrigerate. Garnish with blueberries and enjoy!
Soak the basmati rice for two-three hours. Add milk to a pan and stir well until the milk is reduced by half. Add basmati rice, whipped cream, and sugar. Stir well and simmer the mixture for two-three minutes. Add dried blueberries and mix well. Garnish with cranberries, raspberries, and more blueberries. Add some roasted pumpkin seeds and serve chilled.