Do you know these beauty benefits of calendula
Do you know these beauty benefits of calendula
Jan 22, 2023, 07:47 pm
2 min read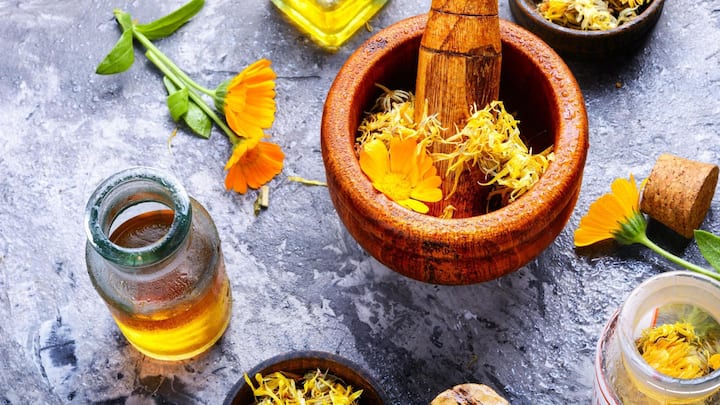 Also called pot marigolds, calendula flowers are not only pretty to look at but also great for your skin and can help hydrate, tighten, and protect it. Native to the Mediterranean, western Europe, southwestern Asia, and Macaronesia, this vibrant flower is rich in antioxidants that help soothe irritation, reduce sensitivity, and brighten your skin. Check out the five most important beauty benefits of calendula.
An essential fatty acid called linoleic acid found in calendula helps nourish and hydrate your skin and give you that natural and subtle glow. It helps keep dry skin at bay by giving your skin cells the ability to absorb nutrients and hold onto water longer. You can use calendula oil or cream on your face twice a day for intense hydration.
Calendula helps to tighten your skin and delay signs of aging. The antioxidant and anti-inflammatory properties in it protect your skin's elastin supply and collagen levels. It also reduces wrinkles, sagging, and fine lines by making your skin firm and amping up its ability to retain water. Adding calendula oil to your daily skincare routine will give you youthful and clear skin.
Loaded with anti-inflammatory and soothing properties, calendula helps reduce acne and irritation along with other skin concerns like eczema, rosacea, breakdown of collagen, and sensitivity without drying out your skin. The flavonoid, triterpenoids, and saponins in this flower give it anti-inflammatory properties. These ingredients in calendula prevent the release of histamines in your body that are responsible for causing inflammation, pain, redness, and allergies.
Protects your skin against harmful UV radiation
Calendula is highly effective in protecting your skin against harmful UV radiation that can lead to pigmentation and dark spots. Its skin rejuvenation properties help maintain the natural pigmentation of the skin and decrease the pigment melanin found in the skin, thereby brightening and lightening it. You can use it as a sunscreen to prevent sunburn, tanning, premature aging, and hyperpigmentation.
A great ingredient for sensitive skin, calendula is packed with healing properties and gives relief from itching, flakiness, and dryness. Calendula oil helps boost blood flow and oxygen to the skin, which stimulates healing functions and gives you healthy skin. The antioxidants and natural flavonoids found in calendula fight off free radicals that can damage your skin. It also helps soothe diaper rash.