Step-by-step guide to acing the nude makeup look
Step-by-step guide to acing the nude makeup look
Jan 31, 2023, 12:22 pm
2 min read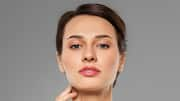 If you are looking for a simple everyday look that can complement most outfits, the nude makeup look is the one you should go for. From Kylie Jenner to Alia Bhatt, most celebrities are opting for this trendy, timeless, and sought-after look as it makes your skin appear natural and flawless. Here's how you can ace the nude makeup look.
Step 1: Cleanse and moisturize
In order to get the look right, start by cleaning your face with a mild cleanser in circular motions for at least one minute. Wash off, and apply tiny dots of a gel-based lightweight moisturizer to your face and spread it evenly until it is absorbed. This will keep your skin nourished and hydrated. Then, apply a pore-minimizing primer for an even skin tone.
Step 2: Apply your foundation and concealer
Choose the right shade of a lightweight foundation with medium coverage. You can also go for a CC cream for a minimal and dewy finish. Apply your foundation on the face using a damp makeup sponge for a flawless finish. Follow it up with a lightweight creamy concealer to blur uneven spots. And finally, set the look with translucent powder.
Step 3: Keep your eye makeup minimal
Pick a warm and neutral eyeshadow shade closest to your natural skin color like a fawn or taupe color, apply it on your eyelids, and blend well. Apply a nude brown shade to the outer corner of your eyes. Tight-line your eyes with a brown kajal, and smudge the kajal with a pencil brush. Use gel eyeliner on the top lid and apply mascara.
Step 4: Add a hint of color to your cheeks
A little blush on your cheeks will amp up your nude makeup look and make your face look more natural. Go for a peachy-toned cream-based blush, apply it to your cheeks and blend well. Apply a contour powder along the hollows of your cheeks for a sculpted look. Use a little highlighter on your cheekbones to accentuate your facial features.
Step 5: Use a matte nude lipstick
Hydrate your lips with a nourishing and moisturizing lip balm enriched with vitamin E, jojoba oil, shea butter, and SPF. Apply matte nude lipstick in the shade of beige or brown on your lips to keep the look minimal. If you want more drama, apply a dash of transparent lip gloss. Finish off your look with a hydrating setting face mist.