Google Meet finally gets emoji reactions; 360-degree background feature incoming
Google Meet finally gets emoji reactions; 360-degree background feature incoming
Jan 12, 2023, 07:10 pm
2 min read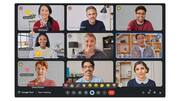 Google Meet has been steadily improving over the past few months. What it lacked was the ability to send emoji reactions to make routine video conference calls more fun. Well, not anymore. The company has rolled out emoji reactions for Meet. If you can forgive Google for delaying the feature by almost a year, you are in for a treat.
All emojis during a call will float on left side
The new update to Meet will let you drop an emoji during a video call. Emojis used during a Meet call will float on the left side of the display throughout the call. The emojis will also appear as badges in the upper-left corner of video tiles, showing who reacted with what. There will be a bust if multiple users send the same one.
Only nine reactions are available at the moment
To use emoji reactions during a Meet call, you have to select the 'smile' icon in the control bar. Then, you can choose your emoji and skin tone. The same skin tone will be automatically applied to other reactions that can change color. Only nine reactions are available as of now, including heart, thumbs-up, party popper, wave, joy, astonished, thinking, cry, and thumbs-down emoji.
The feature is not available on Android yet
Google has rolled out emoji reactions on Meet for Web, iOS devices, and Meet hardware. It will be available on Android in the coming weeks. The company first announced emoji reactions in March last year as part of a bunch of Workspace updates.
Upcoming 360-degree background will move with the phone
Google plans to bring another cool feature, a dynamic 360-degree background, to the Meet app. As you move the camera, the background will also move with the help of the phone's gyroscope and orientation data. It will be available in the coming weeks. At first, you will find a beach-themed background. It will be followed by others called oasis, sky city, and mountain temple.