National Cookie Day 2022: 5 healthy cookie recipes
National Cookie Day 2022: 5 healthy cookie recipes
Dec 04, 2022, 07:18 pm
2 min read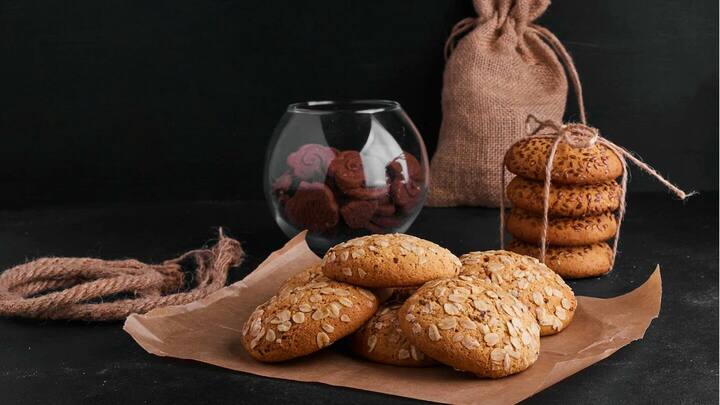 Observed on December 4 every year, National Cookie Day celebrates the crunchy and sugary treats that are a favorite among all age groups. The day was inaugurated in 1987 by the owner of San Francisco's Blue Chip Cookie Company, Matt Nader. Cookies are believed to have their origin in the 7th century AD Persia. Here are five healthy cookie recipes to try today.
Beat together butter and sugar until light and fluffy. Sieve baking powder, coffee powder, and atta, add to the sugar-butter mixture, and combine everything well. Add some milk and make a soft dough from the mixture. Roll into small balls, flatten them slightly and place on a greased baking tray. Place walnuts on top and bake for 15 minutes. Let them cool and serve.
Mix together ragi flour and cardamom powder in a pan and roast them gently. Whisk an egg in a bowl. Add roasted ragi and sugar into it and mix well. Add dry ginger, salt, and rice bran oil and mix well. Make round balls, flatten them and place the cookies in a flat dish lined with butter paper. Bake for eight minutes and serve.
Sift together quinoa flour, baking powder, and baking soda in a bowl. Mix sugar and coconut oil in another bowl. Add eggs and beat well. Now, add vanilla essence and beat again. Fold in the dry ingredients into the wet ingredients. Add almonds and mix well. Pour small scoops of the batter onto a baking sheet, flatten them and bake for 10 minutes.
Oatmeal and almond cookies
Toast some oats in olive oil. Mix together flour, sugar, butter, and ground almonds. Gradually add some milk and prepare dough from the mixture. Add the oatmeal to the dough and mix well. Roll out the dough, cut it into circles, and place the cookies on a dish. Sprinkle some clove powder and cinnamon powder over the cookies. Bake for about 10 minutes.
Mix together peanut butter and honey in a bowl. Add mashed banana and melted butter and mix well. Beat the egg, add vanilla essence and mix well. Combine together oats, baking soda, chocolate chips, baking powder, and cinnamon in another bowl and combine the dry and wet ingredients. Place a few spoonfuls of the dough on baking sheets and bake for 15 minutes.