Don't make unnecessary remarks: Modi tells BJP amid 'Pathaan' controversy
Don't make unnecessary remarks: Modi tells BJP amid 'Pathaan' controversy
Jan 18, 2023, 10:45 am
3 min read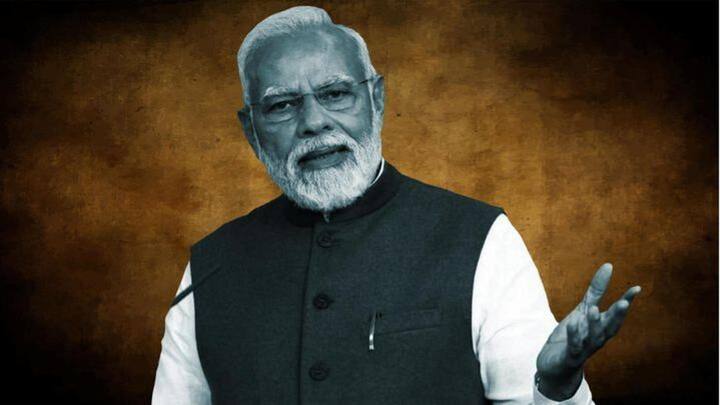 Prime Minister Narendra Modi told Bharatiya Janata Party (BJP) leaders and workers on Tuesday to refrain from passing unnecessary remarks on irrelevant topics like movies, reported news agency PTI. On day two of the BJP's national executive meeting in New Delhi, PM Modi suggested that unnecessary remarks on irrelevant topics put the party's main development plan on the back burner.
Why does this story matter?
PM Modi's remark comes amid the ongoing controversies surrounding Shah Rukh Khan's upcoming Bollywood movie 'Pathaan,' which triggered outrage over a saffron costume worn by Deepika Padukone.
The controversy began after the Madhya Pradesh home minister Narottam Mishra opposed the movie's 'Besharam Rang' song, alleging that it hurt the religious feelings of the Hindu society.
PM Modi speaks highly of 'Sufism': Report
Modi reportedly urged all BJP members to reach out to every section of society, including the minority groups such as Sikhs, Bohras, and Pasmandas, and work for them without poll considerations. Numerous party members in the audience later revealed that the prime minister spoke highly about 'Sufism' and urged them to visit places like churches and universities to connect with them.
Pictures from day two of the meeting
PM Modi cautions about 2024 Lok Sabha polls
Modi said that India's best epoch is coming, and BJP should commit itself to the country's evolution and turn 'amrit kaal,' the 25-year period to 2047, into 'kartavya kaal' (the era of duties). He also alerted that the 2024 Lok Sabha elections are just 400 days away and urged BJP members to serve every section with absolute dedication.
Fadnavis says PM's speech was inspirational
Speaking to the media afterward, Maharashtra Deputy Chief Minister Devendra Fadnavis said that the PM's speech was not of a political leader. "The prime minister's speech was inspirational. It guided us as well as showed us a new roadmap. Only by converting the 'amrit kaal' into 'kartavya kaal', the country can be taken forward," said Fadnavis.
The outrage against Pathaan!
Recently, numerous movies, web, and TV shows have been at the center of discussions as they have faced allegations of hurting Hindu culture and sentiments. Not only from BJP's MP regime, the 'Besharam Rang' song from 'Pathaan' has received widespread criticism in other states too.
Here's how other states reacted to the 'Pathaan' controversy
In Bihar, BJP leader Haribhushan Thakur threatened to stall the movie's release and claimed: "The saffron color is a symbol of 'Sanatan' culture." Last month, Maharashtra BJP leader Ram Kadam urged the filmmakers to clarify their position on the debate. Meanwhile, BJP leaders in Uttar Pradesh urged the Yogi Adityanath-led government to ban 'Pathaan' in the state.